see also: Kusadasi and Central Turkey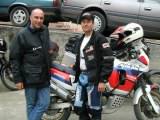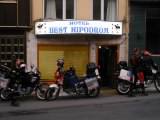 On arrival in Istanbul, Alisan escorted us on his Africa Twin to a great hotel. He rescued us from certain disaster as we had already been riding around Istanbul aimlessly for over an hour looking for a hostel. This is another example of how friendly the Turkish people are, only too keen to help.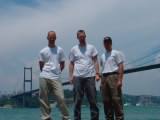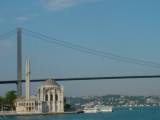 This is the Bosphorus, which divides Europe and Asia. One half of Istanbul is in Europe and the other in Asia.

We tried our best to blend in with the locals, here Damian is smoking a "hubbly bubbly" with Clive, a friend of ours from South Africa, in the background.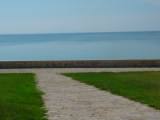 Anzac Memorial. The 25th of April is the National Day of Remembrance consecrated in Australia and New Zealand in memory of those brave men who lost their lives 25th April 1915 World War I. (Anzac Cove)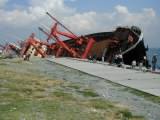 A ship we spotted in Istanbul - doesn't look like it's going anywhere too soon!

Ephesus - Turkey - click here for the full story on Ephesus
From left to right: The Library (120 AD), Inscription in library, The Theatre (3 BD), The Odean(150 AD)
It's not uncommon to find signs with spelling mistakes, but at least they are in English. Curetes Street, view of Ephesus, The Latrina - toilets.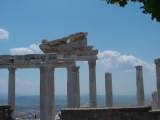 Pergamen Acropolis. This the Turkish Pergamen Acropolis and not the Greek Acropolis in Athens.
Baba Dagi
The summit of Baba Dagi. An awesome 30km off road/jeep track ride to the top. Here we watched over 20 Para gliders take off towards paradise!
Nemrut Dagi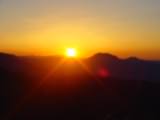 Sunrise at the top of Nemrut Dagi.
5 massive granite statues built on the top of Nemrut Dagi. Earthquakes have caused all the heads of the statues to become dislodged. There is a restoration project currently in progress to put the heads back onto their bodies. Each head alone can weigh up to 3 tons.
Damian and Gary on the summit of Nemrut Dagi. 5 massive rock/granite statues are located here. Damian just before sun rise with a head of a statue which has been dislodged by an earthquake. Gary, just before sunrise, sheltering from the chilly, early morning wind.
The Euphrates ferry crossing. Not the greatest, but probably the cheapest so far.