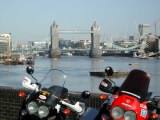 Departure day has finally arrived and we are now on road at last! London city is where it all begins!!
Enjoying the wonderful Devon countryside on our trial run. We did 3 days away to iron out any problems we may have overlooked during our planning.
Dominic, in our a small garage/workshop, where all the modifications to the bikes are carried out. Many more late nights in the garage still lie ahead, but at long last it is warming up, so we won't be frozen after the 1st hours work.
The three AT's (Africa Twin) waiting to go. The AT's handle well around London considering their size, but are definitely built for more open travel especially off-road.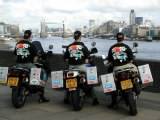 To find out more about 3 of us and all our sponsors see the About The Team and the Sponsors Page
To find out more about the AT's, see Bikes & Equipment, or visit www.atic.org for detailed information on the AT.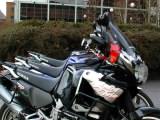 Neatly lined up! We have all chosen to use the same model and make of bike. This makes it easier for spares and knowledge of one particular type of motor cycle. We have done extensive research on the AT and found out its areas of weakness, and are planning accordingly.
Arrive back in the UK
E.T.A = March 2004