New Year in Sydney
The setting and fireworks in Sydney harbour made our adventure seem all that much more worthwhile. We were very fortunate to be able to have an apartment overlooking the harbour in the prestigious suburb of Kirribilli. The final arrival of the Twinadventurers team at destination Sydney.
Bondi beach is not far from the wonderful CBD of Sydney so after the 9 to 5, it's great to go down for a swim or surf till sunset.
Sydney to Hobart yatch race
This annual yatch race, the worlds 3rd biggest, takes place every boxing day from inside the Sydney harbour. We just managed to catch the start before the rains came down.
Lake Hume
Although Murray River was hardly flowing and Lake Hume was only at 10%, we still managed to watch a magnificent sunset from across in Victoria. This was really a reminder of our Zim days as it is very similar to Lake Kariba.
Adelaide and South Australia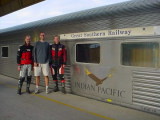 George joins the twinadventurers team. He arrived in Adelaide after a 26 hour journey by train from Sydney.
The Barossa Wine estates
We visited the world famous Jacobs Creek wine estate among many others to sample some of Australia's fine wines. It was a pleasure to be driven around in a campervan.
Mount Gambia
After leaving Adelaide we visited the wonderful little town of Mount Gambia. The blue volcanic lakes turn to grey in the winter then back to blue for the summer months. The luxury of a few sundowners followed by an evening homecooked meal sitting at a table made quite a change to our usual squatting around a little camping stove, cooking 2 minute noodles!
The Great Ocean Road
We spent 2 days along the wonderful coastline of South Australia between Portland and Geelong. From left are the twelve appostles, London Bridge, lunch in Geelong and 2 pictures at various points from the lovely scenic, winding road.