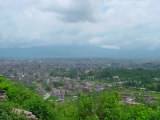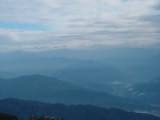 Kathmandu from the Monkey temple and also the view from the Himalayan town mountain of Narangkot. Dom and Gary were fortunate to get a lift with mountainbikes from a friendly local man. We rode back down to Kathmandu from way up in the clouds.
Kathmandu Temple
The Monkey Temple
Floods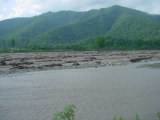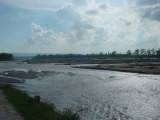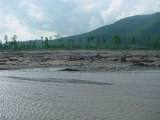 During the monsoon rains, many people die due to heavy flooding and landslides caused by the rains.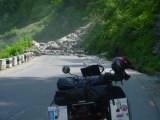 Landslides forced a route change on our way to Kathmandu from Pokhara. As we arrived at the scene, the rocks were still falling from mountain, some boulders the size of cars!
Water Buffalo are a plentiful site in Nepal, domesticated and used widely in agriculture or as work horses to cart goods.
Mountain Biking - we did plenty of riding in Nepal, makes a big difference without an 750cc motor between your legs! Take a closer look at Gary, as he makes his way up a step incline.
A magic sunset on route from Pokhara to Kathmandu
Bike crating at Kathmandu Airport