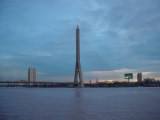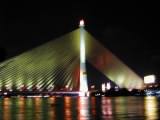 The new Bangkok Bridge over the Mekong by day and night.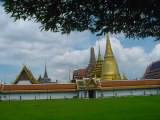 Wat Po, just one of many Wats around central Bangkok.


The Golden, Reclining and Mosiacs Buddas.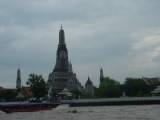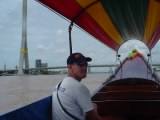 We did a boat trip around Bangkok's canals.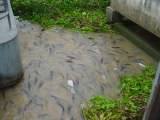 Many barbel (catfish) that love the muddy waters of the Bangkok's rivers.
Heading north up toward Laos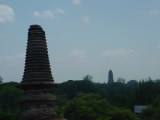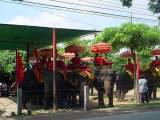 The ancient city of Ayuthya, formerly the Capital of Siam and the traditional tourist attraction: Elephant rides.
The Golden Triangle (Laos, Burma and thailand)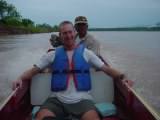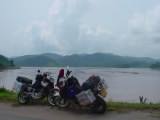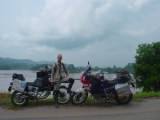 The Mekong River at the height of the monsoon season. We did a long boat trip to experience this river that acts as border control to 4 countries; China, Laos, Burma and thailand.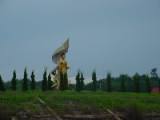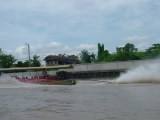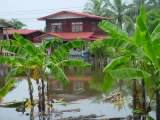 We never got to put a foot onto Burmese soil, but here is a golden statue in Burma from our boat. The long boats ferry people to and from Laos into thailand. We managed to miss the Loei floods but the evidence was still around.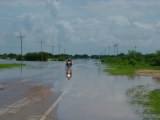 Heavy monsoon rains in Northern thailand caused much flooding. We crossed some places but were restricted in others.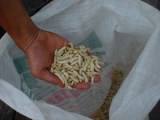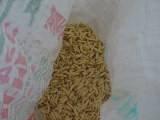 Maggots are long boated from Laos across the river into thailand to be eaten by the locals.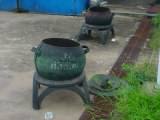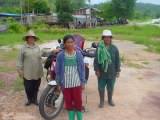 Recycling Tyres and making bins and local Thai farmgirls offered to pose during a lunch stop
The only mechanical problem of the trip - fuel pumps!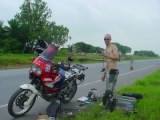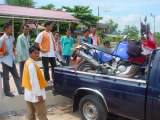 Here is the only mechanical problem so far - the infamous Africa Twin (Mitsubishi) fuel pump. Both Doms and Gary's fuel pumps have packed in. (note the improvised replacement for the rear red reflective triangle, to be positioned behind a vehicle, when broken down)

We ran into mechanical problems only a few days later and were very fortunate to break down outside a very able local Thai mechanic (pictured). He stripped Doms carburettors down and reassembled them without any trouble. This eventually worked out to be the fuel pump, rather than the carbs.