Giotis and Katerina, who we met in Cavalla. They were very friendly and provided us some information about the lovely offroads in Thassos. Yotis has a Honda XR600R and tries to get out to Thassos as often as possible.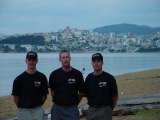 The typical Greek city of Cavalla. We camped here for 2 days after travelling east from Thessalonica. It has quite a busy port taking tourists out to the popular Greek Islands of Tassos and Limnos, which are close by.

Full moon over the bay of Cavalla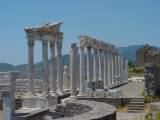 Pergamen Acropolis
Thassos
The Island of Thassos, an hour off the mainland coast from Cavalla. We found some fantastic off-road riding on the mountainous paradise.
Here the driver of one of the granite trucks kindly posed for a photo. You can see the huge slab of granite in the background.

One of the main industries of Thassos is export of its granite to the mainland. The ferries acquire most of their income from this trade. Huge slabs of granite, some weighing in at 25 tons each, are transported one at a time.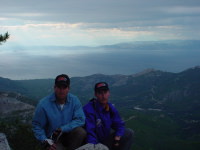 We did a few hours riding on the lovely dusty roads of Thassos. We certainly recommend this to anyone who loves offroad riding. Here we stopped at the top of a mountainous section to admire the fantastic scenery out over the Aegean Sea looking back to Mainland Greece.
Alexandrapolis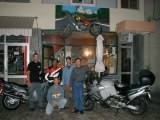 The small town of Alexandrapolis boasts some 100 bikers that belong to the AEME bike club. The warm atmosphere and their kind hospitality made us feel at home. Here we are outside their clubhouse in the centre of town. When they realised what our trip entailed we were treated like lifelong members and given t-shirts.