Lake Garda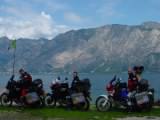 This was our first night in Italy. We camped next to Lake Garda, which is close to the foot of the Alps.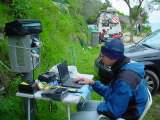 Gary, our comms man, hard at work at the campsite on the shores of Lake Garda.
Pisa
Damian, Dominic and Gary doing their bit for the leaning Tower of Pisa.
1. Gary and Damian with Kate and her sons Tomas and Luis. 2. Piero and Claudio.
We stayed with Kate, Piero and their family for a few days in Meldola, not far from Florence in central Italy.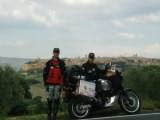 We passed the city of Orvieto where the Giro di Italia finished this week. It is an old Roman fort set high up on the mountain.
Rome
Our daytrip to Rome included a visit to the Vatican city and the Coliseum.
Sorrento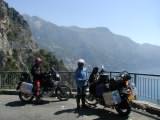 We visited the lovely peninsula just below Naples and camped at Sorrento for 2 nights. The coastline is really beautiful and a reminder of Chapmans Peak in Cape Town, South Africa. It is well worth a visit on a motorbike as the road is cut into the mountain and snakes its way around the peninsula from Sorrento through Positano and Amalfi to Solerno.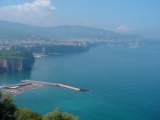 Another spectacular view from a hill top just outside the town of Sorrento. Over looking the bay of Sorrento. It doesn't get any better than this!!!!!
Our stay at Sorrento included a visit to Mount Vesuvius, a live Volcano not far from Naples and the famous Roman city of Pompeii. You can see the volcanic smoke rising up behind us.
We were fortunate to visit this ancient Italian village, built into the side of a mountain at sunset on our way to the south.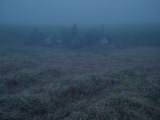 In order to be as close to the early ferry from Italy to Greece, we slept in this misty farmers wheat field. Mosquitoes were a nightmare!!!