Northern Iran
| | | | |
| --- | --- | --- | --- |
| | | | |
We visited Tabriz, tried to renew our visa without success so then moved on and stayed in Gazvin for a day. A superb day trip out from there to Alamut and the fertile valleys of Razmiyan was worth the effort. We managed to visit the Castle of Assassins and were very fortunate to meet some very lovely Iranian people over lunch before arriving. 2 of them just happened to be the local historians so we were treated to a royal trip with no fewer than about 10 tour guides! Afterward we were invited into their home by artabod@yahoo.com, also a local cherry farmer. Again we were overwhelmed by the hospitality of these simple, kindhearted people. After tea and many cherries we continued on our way.
Lake Evan
Esfahan
Due to our visa problems, we could only stay in Iran for 10 days. This was very disappointing as there was so much to see, the Iranian people were so friendly and fuel was almost free (3p per litre!). We spent a night and day in Esfahan where we came across this magnificent mosque in the city square.
The hot dry deserts of central Iran where the temperatures often reached the late 40's! This is the section from Kerman to Bam.
Central Iran
Lunchtimes brought extreme heat and were a good time to catch a siesta out of the baking hot sun.
The Ancient Mud City in the Town of Bam - Iran
This exquisite ancient city, created out of nothing but mud, is the main attraction to the eastern oasis of Bam. Here we met the most westerners that we'd come across in our visit to this wonderful country.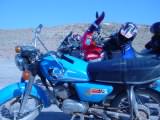 We also came across local bikers and gave them some K&N stickers.
We find this amusing and worth a photo (they posed
very kindly) but it's an everyday occurrence in most
parts of Iran where fuel is so cheap that there are
thousands of vehicles on the road.